Healthcare Trends: Get Bigger or Get Smaller FAST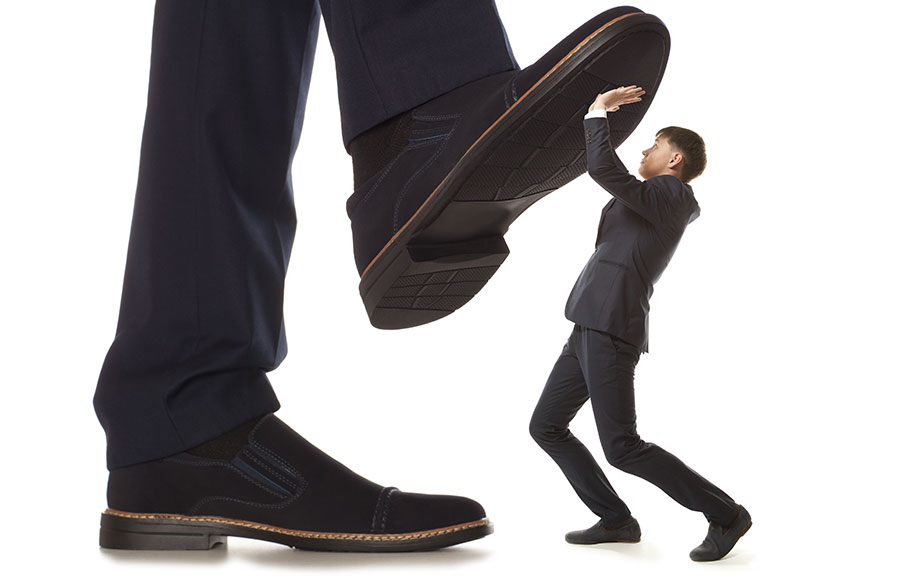 Independent physicians who want to stay that way have been fighting an uphill battle for years against powerful healthcare trends.
The bad news: It's going to get worse before it gets better.
The good news: Proactive physicians can (and must) utilize strategies to remain independent, competitive and viable.
There is still – and hopefully always will be – a place in the healthcare delivery system for independent physicians, but it's shrinking rapidly and only the best and smartest are likely to remain independent.
Moving Target: The Shifting Playing Field – and Players – in Healthcare Delivery
Before we review possible solutions for remaining independent, we need to be crystal clear on the healthcare trends that represent serious problems affecting independent physicians and their patients.
As in many other industries, the delivery of and payment for healthcare in the U.S. has been increasingly controlled by fewer, larger companies. Needless to say, that makes it tough for the "little guys" to survive.
Are you old enough to remember when independent pharmacies, hardware stores, jewelry stores, small bookstores, neighborhood grocery stores and local travel agents were a thing?
Do you remember what the local retail business environment was like before Amazon?
The same thing is happening to the healthcare industry.
Hospitals and formerly independent physician practices have merged into health systems and those health systems are now merging into even larger (and fewer) health systems.
CVS, which already operates MinuteClinic walk-in clinics in its stores in 33 states, is now acquiring Aetna unless the deal is blocked by the Department of Justice – which is unlikely.
Walmart is likely to make a play soon to buy Humana, which would also get Walmart into home health care based on Humana's plan to acquire a 40% stake in Kindred Healthcare's home division.
Walmart may also soon acquire online pharmacy PillPack.
UnitedHealthcare already partners with Walgreens for Medicare Part D prescription coverage through its OptumRx division.
More recently, United HealthGroup's MedExpress urgent care centers are connected to Walgreens drugstores in 16 locations across six states as part of a new pilot program.
UnitedHealthcare's Optum delivery unit already includes ambulatory surgery centers, physician practices and locally based community health clinics that they have acquired.
Now, Optum is buying DaVita Medical Group and its 300 primary care and specialist medical clinics as well as its 35 urgent care centers and six outpatient surgery centers.
How can independent physicians possibly compete with these behemoths?
Must-Do Strategy #1 – Get Bigger (or Smaller) FAST
Bigger OR smaller?? Yes, both are viable options.
Get Bigger
If you intend to remain competitive and viable in the traditional insurance-based healthcare delivery model, you need to get bigger. Smaller independent, insurance-based practices just don't have enough leverage to compete against the powerful healthcare trends that are stacked up against them.
Whether it's contracting with health plans, purchasing power for equipment and supplies, increasingly demanding reporting requirements or health benefits for employees, smaller insurance-based practices are the odd man out in this game of musical chairs. (Anyone remember musical chairs?)
Options for getting bigger
Mergers
Independent practices are merging with other practices to increase size and leverage. This includes primary care, single-specialty groups and multispecialty groups.
IPAs
Independent Physician Associations are organized and owned by physicians to help smaller practices remain independent by creating leverage for negotiations with insurers and reducing costs through group purchasing discounts and various types of administrative support. Some IPAs are more effective for their members than others, so research on services and track record of the IPA is important. This research includes interviewing other physicians in the IPA regarding their perceptions and experiences.
ACOs
Accountable Care Organizations are networks of doctors, hospitals and other healthcare providers organized around the treatment of Medicare beneficiaries.
Participation is voluntary but it also includes shared savings or shared losses so it's vital that physicians research financial history of an ACO they plan to join.
ACOs help physicians gain more control of the care of their patients because they have to reduce costs by emphasizing the quality of care instead of volume.
ACOS also provide access to advanced technologies that independent physicians could not afford to acquire on their own.
MSOs
Managed Services Organizations are partnerships that offer a range of practice management and support services to independent physicians and other providers of ancillary services.
Like IPAs, MSOs help physicians remain independent through more powerful vendor negotiations and other group purchasing discounts, but MSOs are much more actively involved in administrative support for physicians.
The MSO model allows physicians to dramatically reduce their administrative time demands so they can focus on patient care while increasing their profitability and retaining their independence.
Get Smaller
An increasing number of primary care physicians are opting to buck negative healthcare trends by converting their practices to a membership fee model that allows the provider to see fewer patients for longer, more thorough appointments.
Options for getting smaller
Concierge Practice
Most concierge medicine practices charge in the ballpark of $150 – $200 per month for their membership fees. The membership fee covers increased access to the physician including more of the physician's time, attention and advice.
Concierge medicine practices generally also bill the patient's insurance plan. Because these practices are still participating with health insurance plans and Medicare, they are subject to the same regulations as traditional insurance-based practices.
Concierge medicine is best suited for physicians who practice in more urban and affluent communities where there are enough residents who are able and willing to pay more for a more personal and attentive experience and relationship with their doctor.
Direct Primary Care (DPC)
Direct Primary Care practices typically opt out of the health insurance model entirely. The patient pays a monthly membership fee that ranges from as low as $10 per month to as high as $100 per month. The typical DPC practice averages $50-60 per month in membership fees.
Patients may still have a traditional health insurance plan to which they can submit claims for certain treatments but the DPC office does not bill or collect fees from the insurance company.
The DPC practice provides most of the needed primary care services within the scope of the membership fee and there are no copays for the patient. DPC practices often provide wholesale reduced or even "at cost" pricing for lab testing and imaging services as well as "wholesale" pricing for common medications.
More employers (both self-insured and not) are including DPC among their paid benefits for employees because it encourages more proactive care that heads off avoidable health problems and saves the employer money on healthcare costs and lost productivity costs.
Concierge and DPC practices generally max out their patient panels at roughly 600 patients (compared to 2,500 patients for a typical, insurance-based primary care practice).
Next Steps
If you are not getting bigger or getting smaller strategically to stay viable in the face of daunting healthcare trends, you are more vulnerable every month than the month before to being permanently sidelined by corporate healthcare or becoming employed by them.
If you don't mind or prefer being an employed physician, you probably didn't get this far in reading this article. If you read this all the way through, it's time to do something proactive – and FAST.
For questions or discussion, contact Lonnie Hirsch, Founder and CEO of Forefront Healthcare Consulting at Lonnie.Hirsch@HirschHealthConsulting.com or by phone to 800-924-5447.